Burn-XT™ Black Thermogenic Fat Burner w/ TeaCrine®
Regular price

Sale price

$44.99

Unit price

per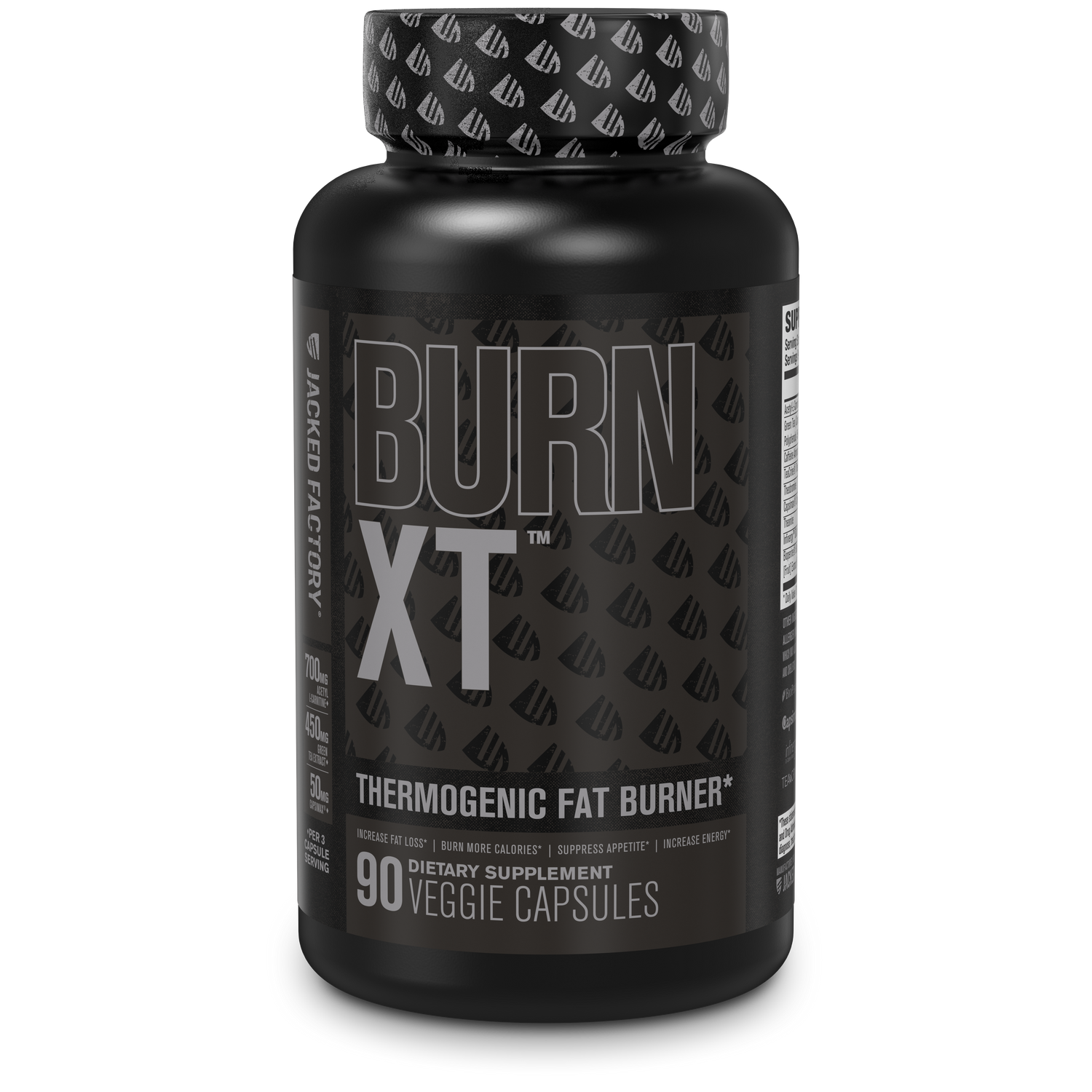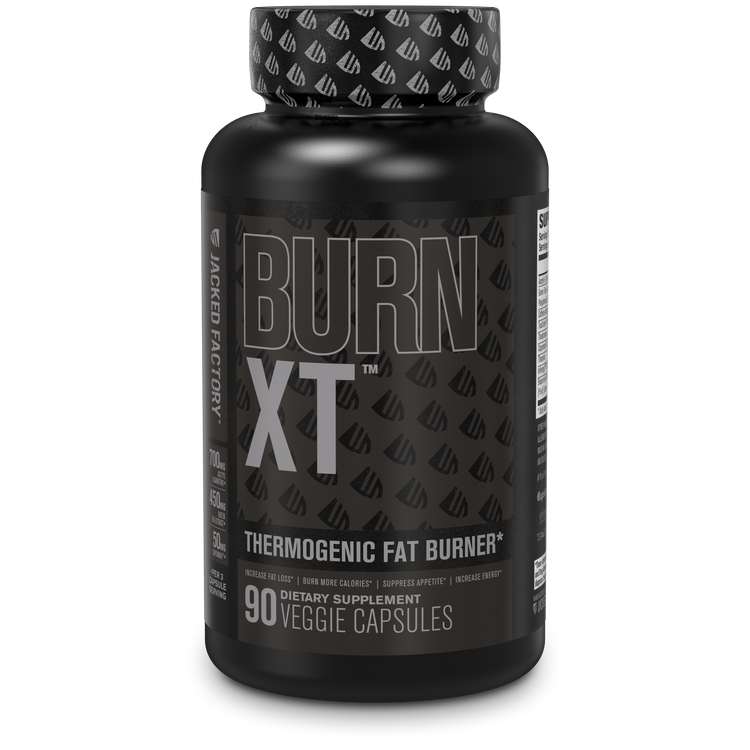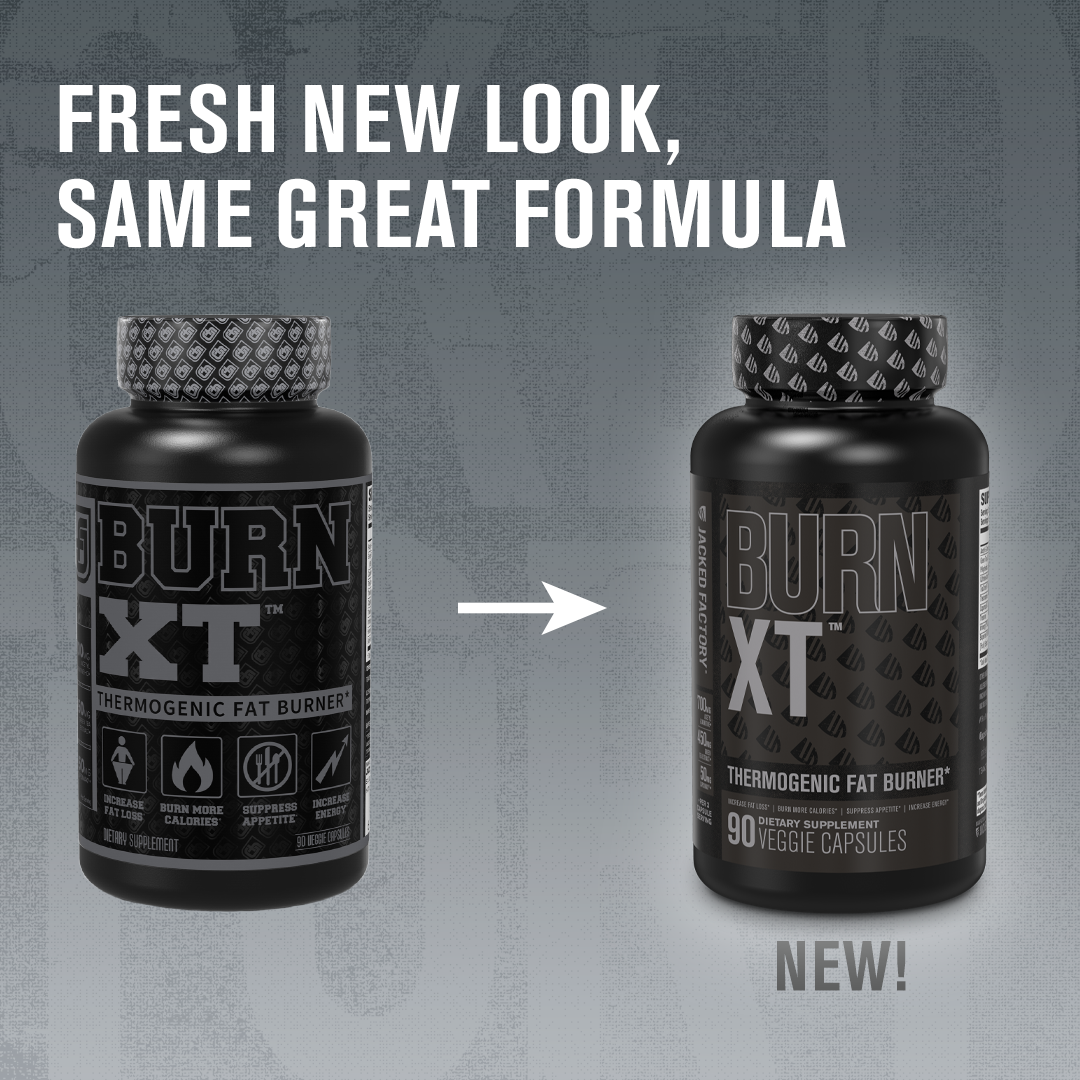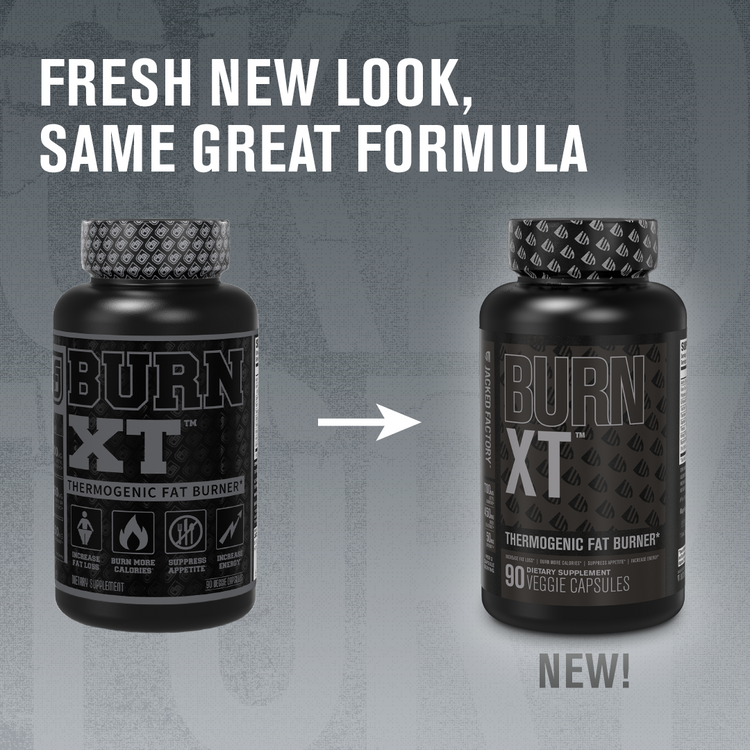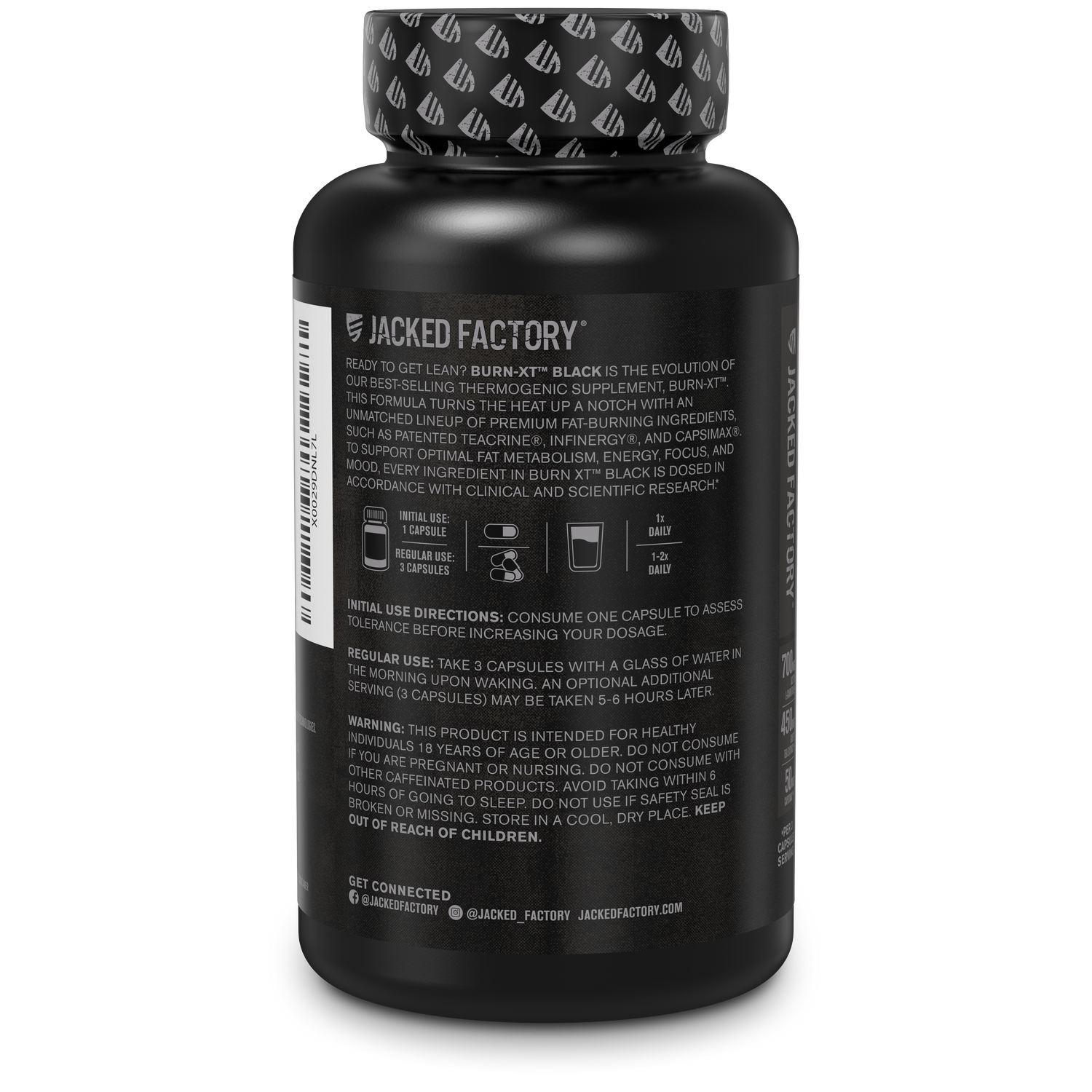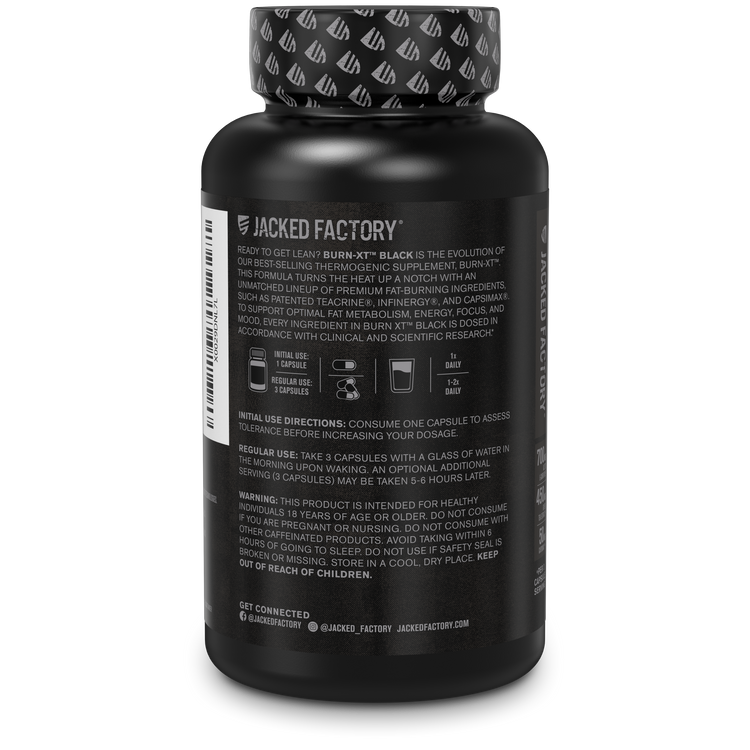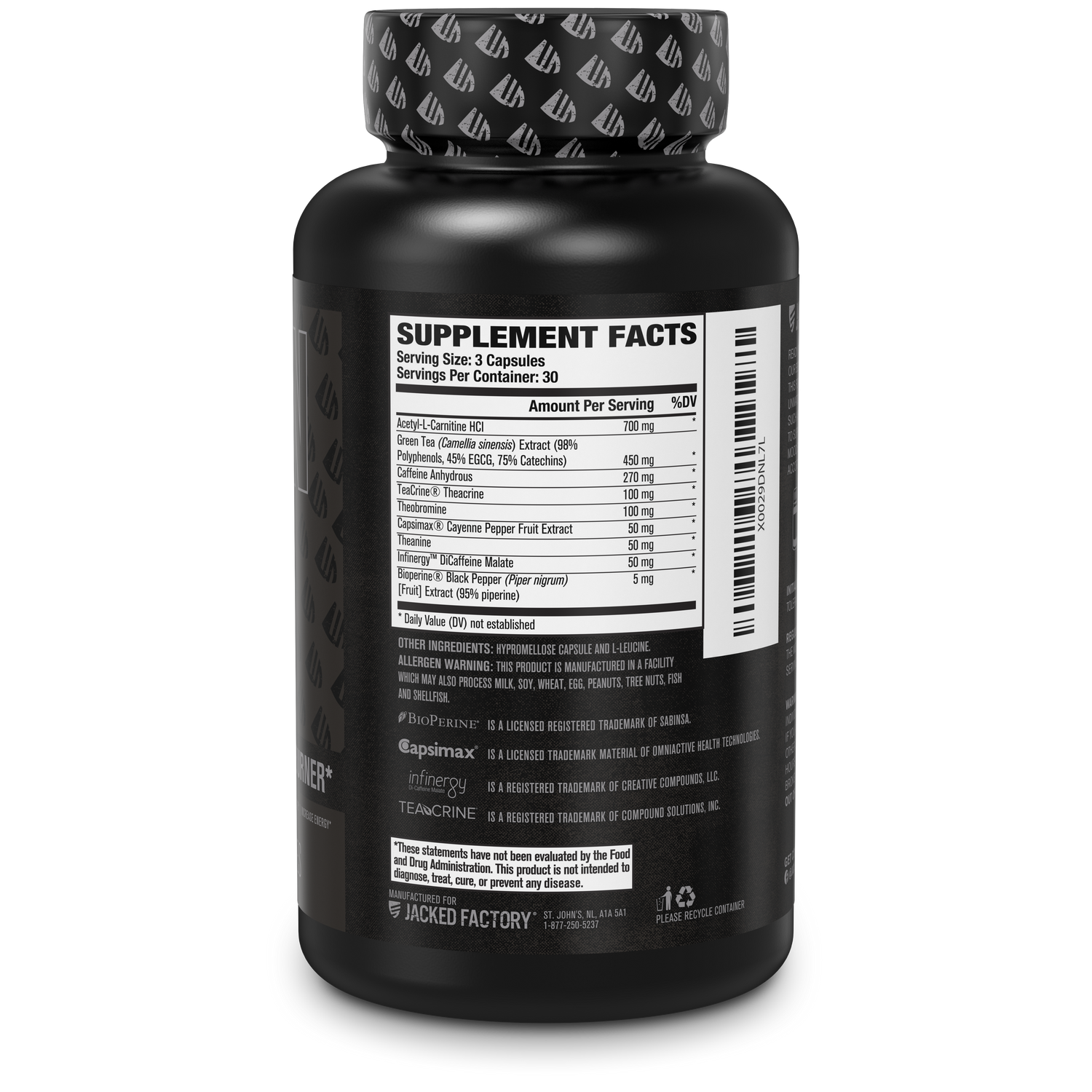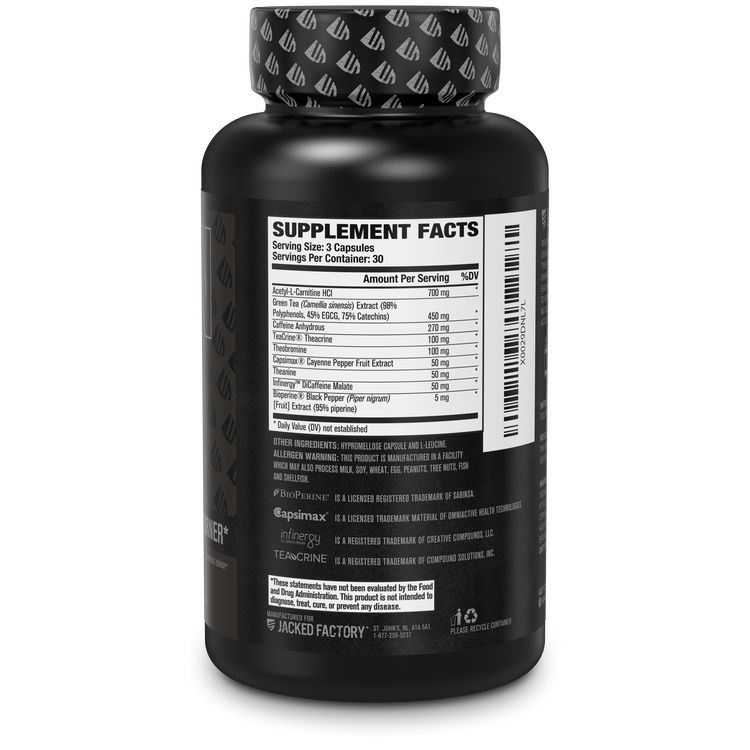 Burn-XT™ Black Thermogenic Fat Burner w/ TeaCrine®
Regular price

Sale price

$44.99

Unit price

per
Burn-XT™ Black is the evolution of our #1 selling thermogenic supplement - Burn-XT™. This formula contains an unrivaled profile of the most powerful fat-burning ingredients, including trademarked Teacrine®, Infinergy™, and Capsimax®.
To ensure optimal efficacy and results, every ingredient in Burn-XT™ Black is scientifically dosed. Maximize your metabolic rate and experience limitless energy, pinpoint focus, and enhanced mood to help you get a lean, shredded physique.*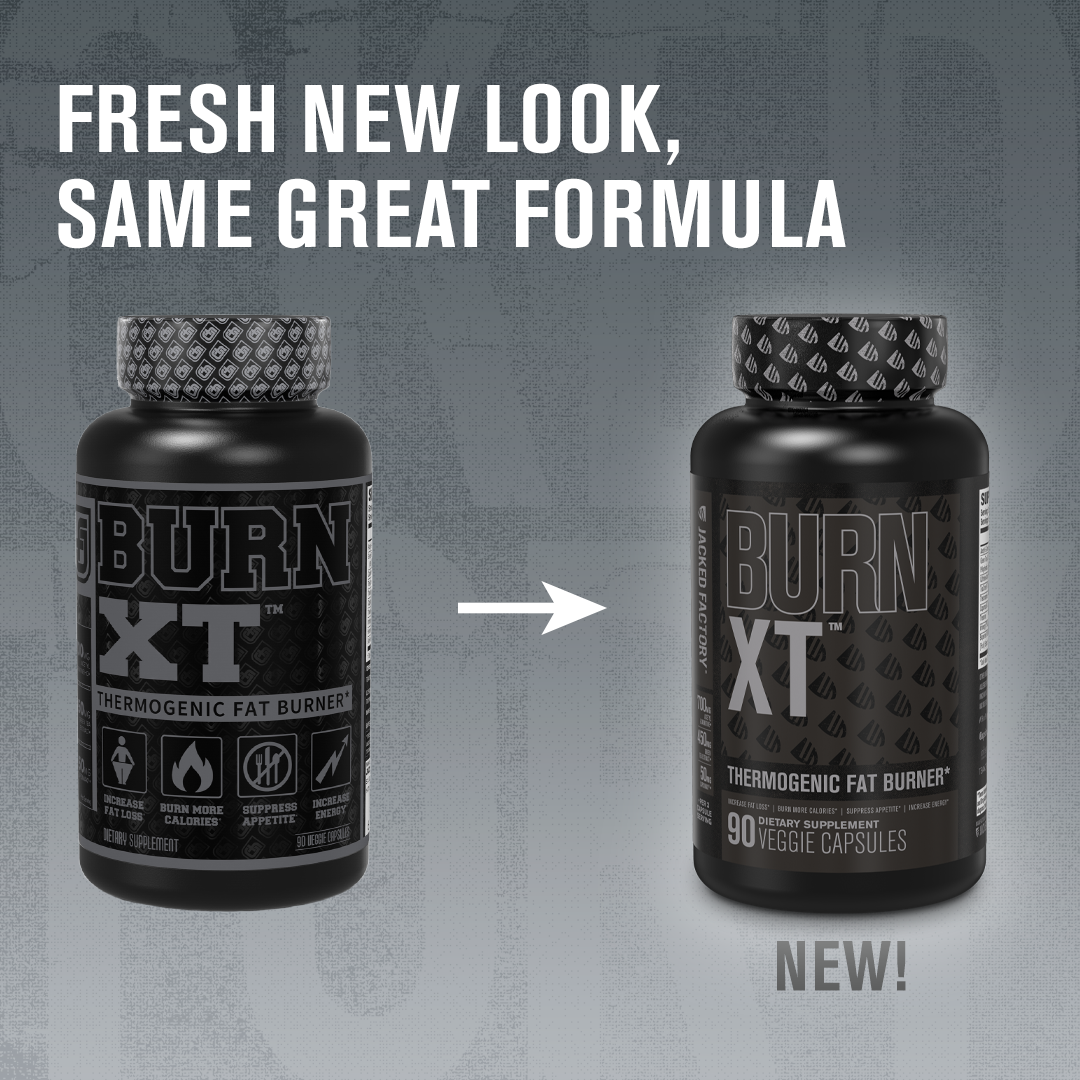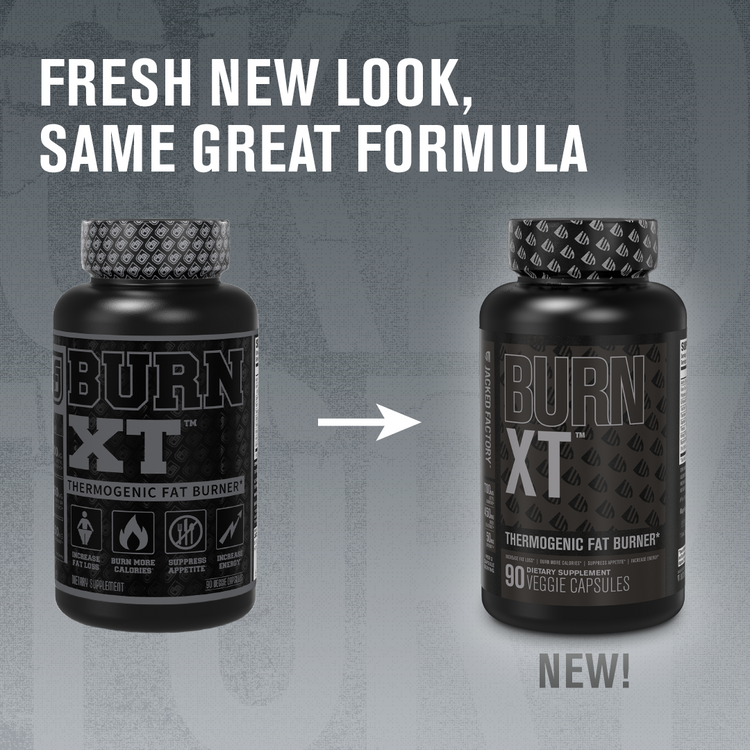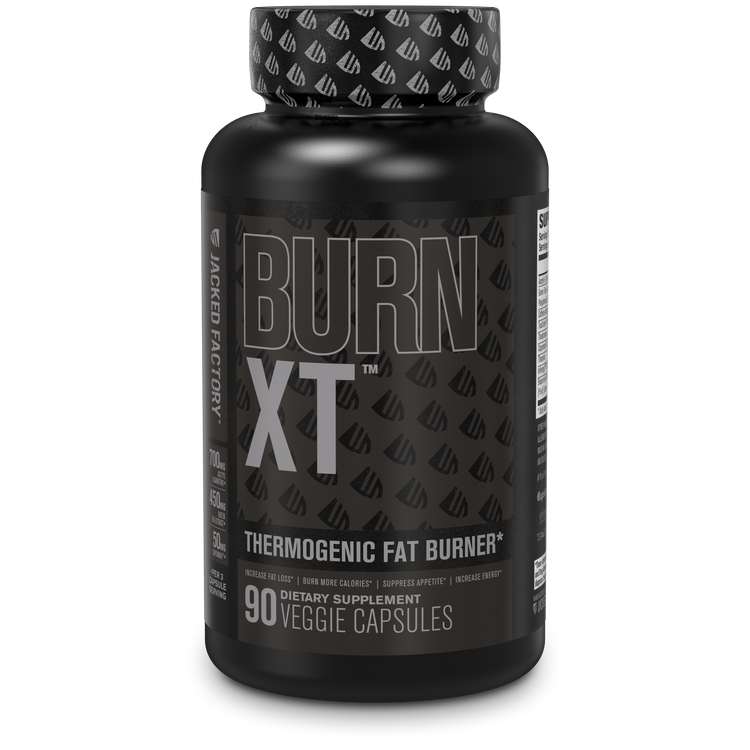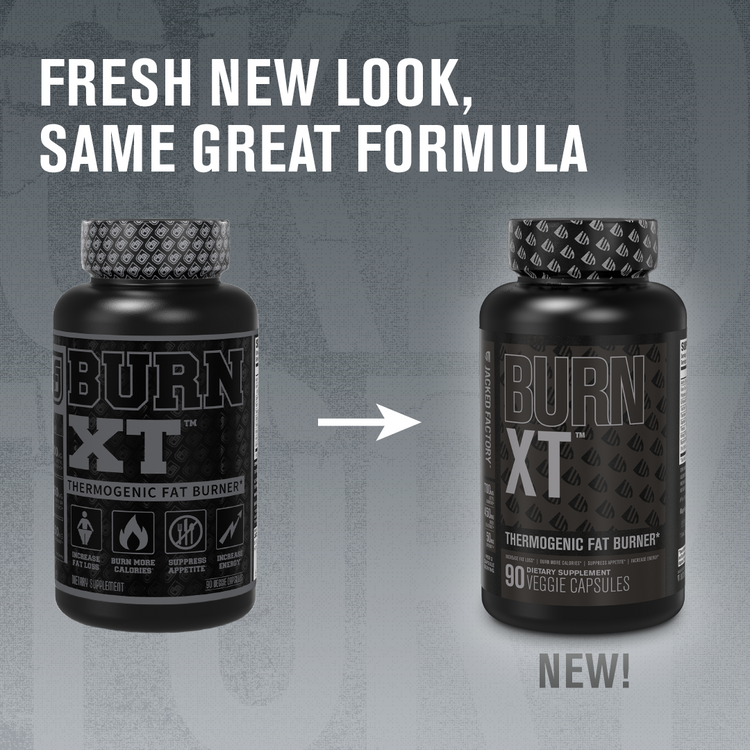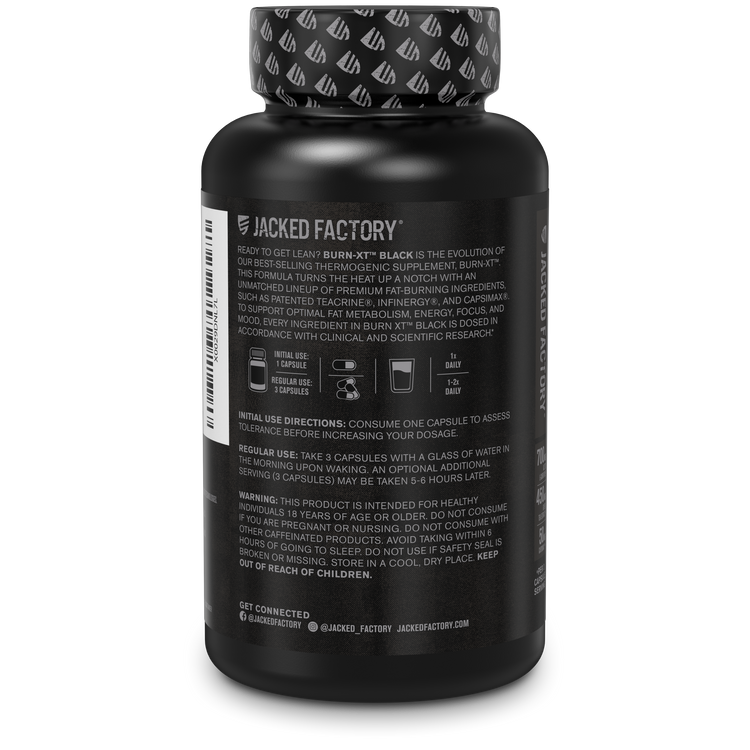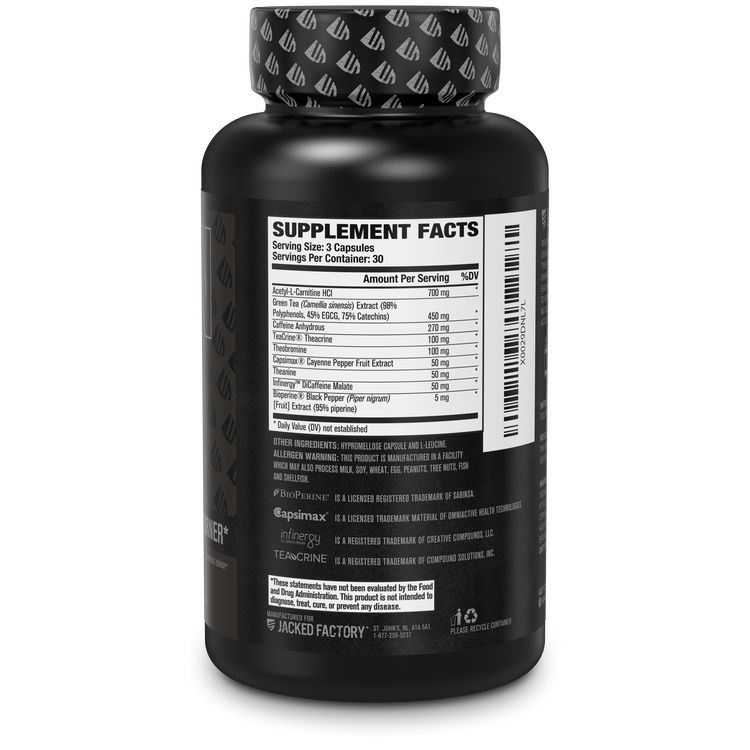 Key Benefits
Ingredients
Supplement Facts


Burn Body Fat, Preserve Hard Earned Muscle

3-Stage Formula for Maximum Fat Loss

Highly Effective for Men and Women

100% Hassle-Free Money-Back Guarantee 
Acetyl L-Carnitine
HCI Per Serving: 700 mg
Helps release fat stores and boosts cognitive function. Enhances fatty acid transportation into mitochondria to maximize fat burning.
Green Tea Extract
Per Serving: 450 mg
The leaves of green tea are rich in epigallocatechin-gallate (EGCG), which helps increase fat loss, energy, and promote various health benefits. Green tea leaves also contain natural caffeine, which helps the body flush out fluid and reduce bloating.
Caffeine Anhydrous
Per Serving: 270 mg
Increases energy, alertness, cognitive function, and amplifies fat burning.
Theobromine
Per Serving: 100 mg
Helps with cognitive (energy) and cardiovascular benefits.
Capsimax Cayenne Pepper Extract
Per Serving: 50 mg
A powerful thermogenic that assists the mobilization of fat to be used for energy production.
Infinergy™
Per Serving: 50 mg
Infinergy™ is a patented ingredient that uses an ionic bond between caffeine and malic acid, creating a molecule (Di-Caffeine Malate) that offers unmatched synergy for lasting mental performance and thermogenesis.
Infinergy™ helps take you the extra mile when you need it most, this is not your ordinary caffeine. No jitters, no crashing. Just pure, clean, and limitless energy that allows you to crush your workouts and torch stubborn body fat.
TeaCrine®
Per Serving: 100 mg
TeaCrine® is a patented form of theacrine - a purine alkaloid similar in molecular structure to caffeine. TeaCrine® is the perfect complement to Infinergy™ since these two ingredients work in tandem to increase catecholamine levels, primarily dopamine and adrenaline.
In turn, TeaCrine® keeps your focus, motivation, and athletic performance at peak capacity throughout the day so you can maximize your workouts and carve your physique.
BioPerine
Per Serving: 5 mg
A patented black pepper fruit extract that enhances the efficacy and absorption of the other ingredients.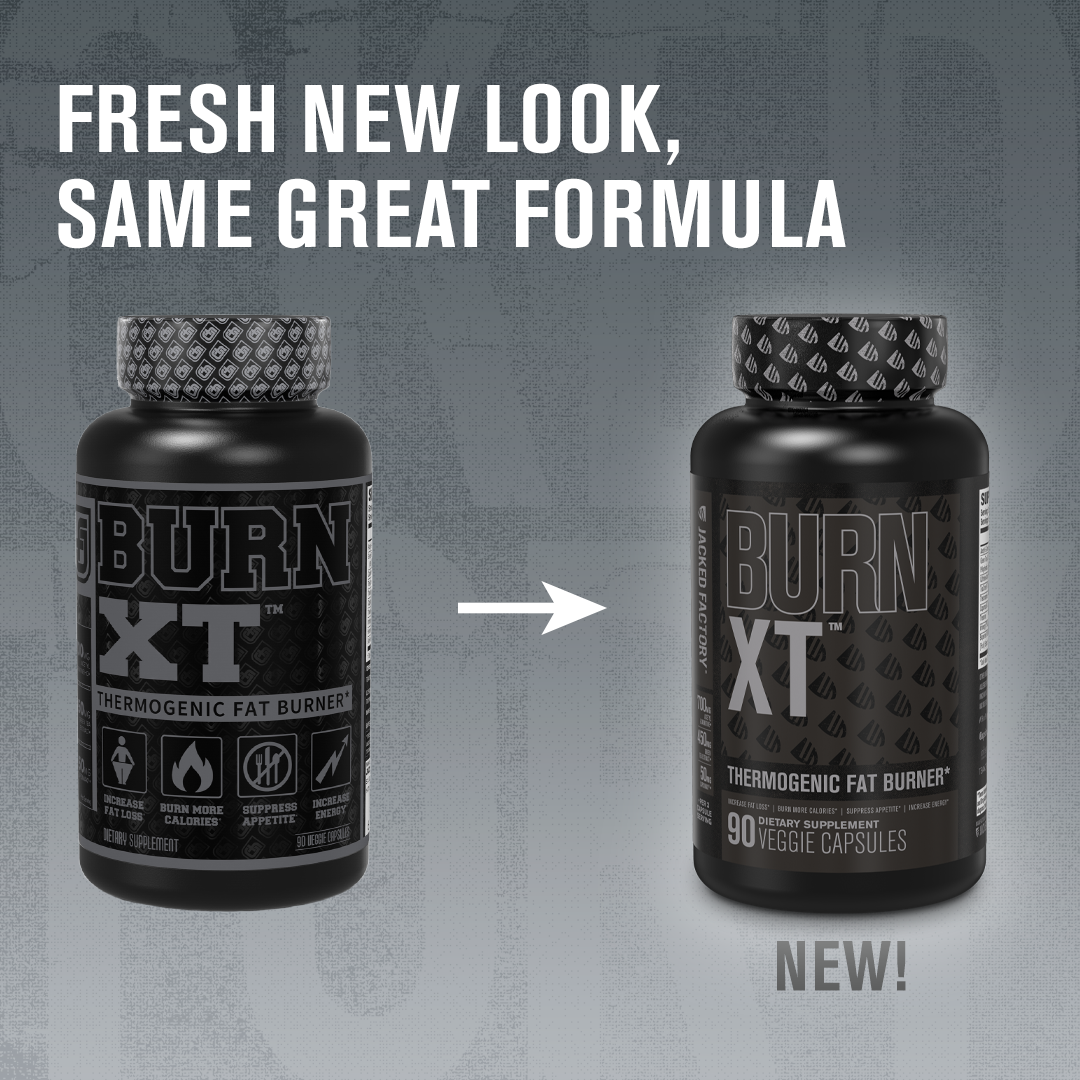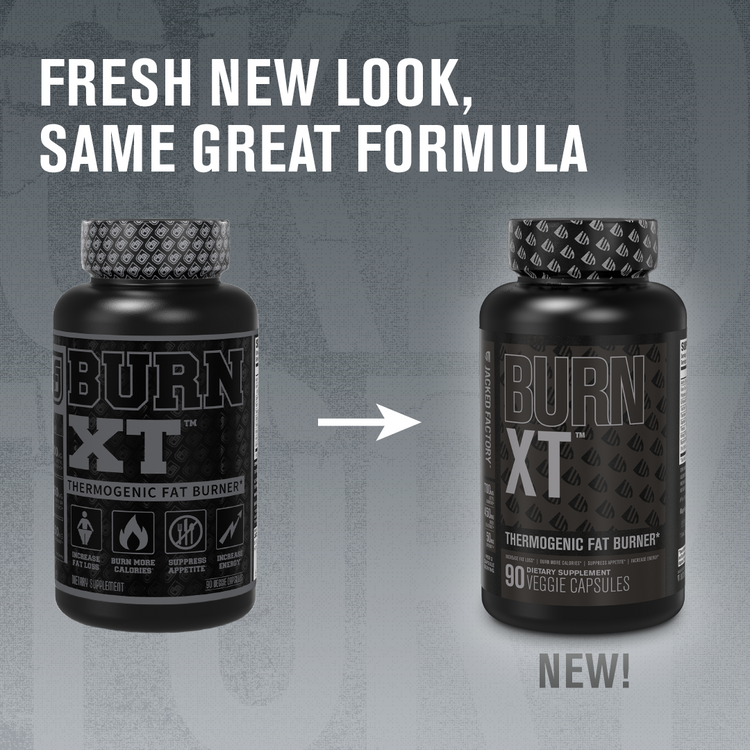 FAQS
How do I take Burn-XT Black?
Initial Use Directions: As a dietary supplement, consume 1 capsule per day for 3 days to assess tolerance.

Regular Use Directions: As a dietary supplement, consume 3 capsules (1 serving) in the morning upon waking. An additional 3 capsules (1 serving) may be added 5-6 hours later.

*Avoid taking within 4 hours of bedtime and do not exceed the recommended dosage.
*Use with quality nutrition practices, regular exercise, and healthy lifestyle habits.
*Drink plenty of water throughout the day to support hydration and overall health.
*If you experience any undesirable effects, stop use immediately and consult with your doctor.
Can I stack Burn-XT Black with another fat burner?
Yes! Burn-XT Black can be stack with Lean-XT and/or Lean PM.For maximum results, Burn-XT Black and Lean-XT can be taken during the day while Lean PM is consumed before bed.
Does Burn-XT Black contain any stimulants
Yes! Per serving (2 capsules) Burn-XT Black contains 270mg of caffeine, 100mg of Teacrine, and 50mg of Infinergy.
Is Burn-XT Black vegan?
Yes! Burn-XT Black capsules are vegan.
Is Burn-XT Black a diuretic?
Burn-XT Black is not a direct diuretic, however, it does contain ingredients such as caffeine that may cause diuretic effects in some individuals.